About Us
Each of us at Canada Flowers is working hard to develop lifelong relationships with our customers and stand by our satisfaction guarantee as your assurance of quality.
Our goal is complete, 100% customer satisfaction.
We appreciate your business and work hard to be your only choice for flower delivery anywhere in the world.
---
Statement on COVID-19
---
We are taking every precaution with your order to minimize the impact of COVID-19 as our highest priority is the health and safety of our customers, staff and partners. Please feel free to reach out to us via email: service@flowers.ca if you have any concerns. We appreciate and thank you, for your understanding during this time.
---
Our History
---

As an online floral e-commerce retailer, Canada Flowers has been providing local, national and international online flower delivery services since 1997. As a retail florist with a reputable 'brick and mortar' business, Canada Flowers has been in the flower business for over 50 years.
Canada Flowers, online at canadaflowers.ca, is owned and operated by Flowers.ca Inc.
Canada Flowers, Canada's National Florist is also pleased to announce that the domain name www.canadaflowers.com is now a part of our national brand.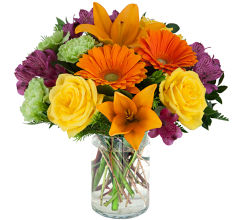 Our President and CEO, Mr. Dennis Sunstrum, started Sunstrum's Town & Country Florist in Niagara Falls, Ontario, Canada long before anyone even thought of the internet or shopping online. Sunstrum's Town & Country Florist is a professional, full-service FTD® and Teleflora flower shop, operating at 1-45 Brisbane Rd in Toronto, Ontario, Canada. These days, Town & Country Florist (Sunstrum's) still operates a vigorous business out of its Niagara location. Much of our 'brick and mortar' flower shop location has been transformed into a full-service, high-tech customer service, retail contact (call) centre and shipping facility, complete with a high-tech photo studio, secure climate controlled server room, and more.
---
Affiliation with FTD® and Teleflora
---

As Canada Flowers, we have delivered more than 4.5 million flower, fruit, plant and gift orders across Canada and throughout the world. We have recently been honoured once again as Canada's top FTD® florist, and are now ranked among the top 5 FTD® florists worldwide. We take great pride in providing the very best service combined with the highest quality flowers available online. We are also honoured to be among the top Teleflora florists both in Canada and internationally.
Our high-ranking and close affiliation with both FTD® and Teleflora, allows us to leverage our membership status to ensure the very finest flower products are delivered throughout Canada by carefully selected partners and wire service member florists, highly regarded for their quality, freshness, professionalism and value.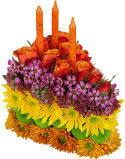 We are also fortunate to operate a unique network (The Worldwide Floral Network) within the United States and throughout most countries worldwide, allowing us to work directly with agents, members and affiliates in thousands of cities globally. Our goal is to continually improve our network to provide our customers with the very best services available online -- or anywhere else!
---
What We Do
---
All of Canada Flowers Original products are locally designed, professionally prepared by hand, and reliably delivered by real florists. We believe that nothing replaces the value, beauty and artistry of florist-prepared arrangements, bouquets and floral gifts. Simply put there is nothing quite like the results generated by talented floral designers working with fresh, quality products. The result - a beautiful arrangement - delivered fresh and ready to enjoy, is simply a treasure that a courier can't send overnight in a cardboard box. Canada Flowers is unique online for several reasons. These include:
Over 1500 custom-made, unique and original flower arrangements which we prepare and photograph in our on-site digital studios. We call these Canada Flowers Originals. Most florists all share the same product catalogues, which are repeated in 100s of websites in Canada, USA and globally. While we happily offer the very best of FTD® and Teleflora, we also offer over 1500 of our own, beautiful master-designed flower bouquets and arrangements.
DELIVERY: For most cities across Canada, the delivery fee is added at checkout. Our delivery fees are very reasonable!
We have knowledgeable, mature and dedicated staff that continually strive to provide the very best customer service experience for our customers. Part of this customer service includes the pleasure of speaking with a real customer service specialist when you call us, rather than listening to a complicated phone menu. We do our very best to answer most calls in three rings or less. We are open seven days a week and answer phones long after "normal" business hours. If you contact us in the evening or even at 8:30 p.m. you, won't be transferred to a 3rd party call centre. You'll get to speak with Amanda, Sheryl, Michelle, Jamie, Riley, and others. Real people who are working hard to meet and exceed your expectations!
We accept Custom Flower Orders across a wide range of prices, so you can order what you want, and choose flowers that fit your budget.
We accept PayPal payments online. Simply put, if it makes ordering online easier for you, then we do our best to make it happen. That's been the case with the addition of PayPal as a fast, secure and completely reliable payment option.
Our website is continually being updated and expanded upon, with new flower arrangements. In fact, we typically add about 15 new, original floral arrangements per month.
We can be found online at flowers.ca. It's the easiest and most intuitive domain name for sending flowers in Canada. Just remember flowers.ca, and we'll do the rest! (Looking for roses? We can also be found online at roses.ca. Easy.)
---
Customer Service Hours of Operation
---
Monday to Friday 8 AM to 6 PM EST
Saturday 9 AM to 4 PM EST
Sunday 9 AM to 4 PM EST
Most Holidays 9 AM to 4 PM EST
Closed Thanksgiving Day, Christmas Day, Boxing Day, New Year's Day
---
Contact Customer Service
---
Email service@flowers.ca
Phone toll-free 1-888-705-9999
Phone direct 1-905-354-2713
Fax 1-905-374-8708
---
Customer Experience
---
feedback and suggestions from customers. To our existing customers, we'd like to thank-you for your business, and we want you to know that we truly value your business and never take it for granted. To new customers, we invite you to try our services. We offer a complete satisfaction guarantee. We look forward to the opportunity to serve you both now and in the future.
Canada Flowers is continually working toward growing and improving our business. We work hard every day to remain the very best online florist available to Canadians. We are always open to