Corporate Orders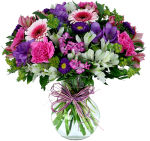 At Canada Flowers we have developed many special, private relationships with corporate clients across Canada - and throughout the globe. We serve each corporate client professionally and personally. We have dedicated Corporate Accounts specialists, who excell in delivering unique corporate solutions.
Looking for a Great Business Gift? Canada Flowers has the flowers, fruit baskets and plants to meet your needs. Corporate gift ordering from Canada Flowers can save your company time and money. We are able to deliver tasteful business gifts to thousands of locations across Canada or internationally, virtually simultaneously, thereby eliminating the need to deal with several different companies spread across many countries.
A quick phone call or e-mail to Canada Flowers will help you to understand the easy-to-use (streamlined) procedures and bulk discounts we have in place for our valued corporate clients. Call and ask to speak directly with our corporate specialists.