Corporate Gifts & Flowers
Corporate gifts are an excellent way to show recognition and thanks for important occasions in your business. Whether you're looking to send a special thank you to your clients or suppliers, or you want to show your staff recognition for their hard work.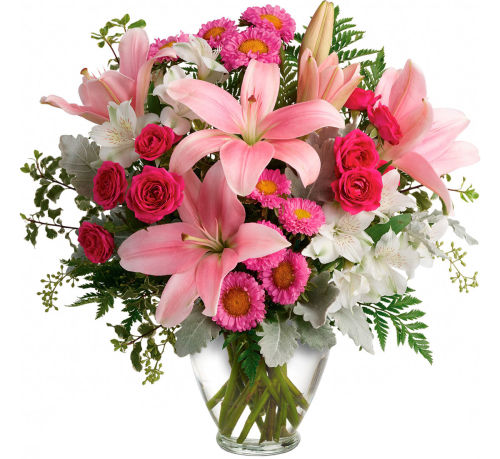 A corporate gift can go a long way in leaving a lasting impression; sign up for your FREE corporate account today.
Why Send A Corporate Gift?
Show recognition for hard work or achievements in work
Send a special thank you to employees or suppliers
Celebrate moving house, promotions or the arrival of a baby
Flowers to decorate your office or to display at reception
Get Well Soon gift for employees
Corporate employee gifts for Christmas and birthdays
Corporate Christmas Gifts
With a corporate account from us, you get all of the benefits. Get in touch to discuss our corporate Christmas gifts. This collection is full of scrumptious treats to make the perfect corporate gift, with exclusive discounts when you order in bulk.
Applying for a corporate account with us couldn't be easier, simply click the button below and fill in the form, and a corporate agent will be in touch to set up your FREE account.
Same & Next Day Delivery
We offer same-day and next-day delivery or a specific date of your choosing. Need same-day delivery? Order before 12 pm.
Account Manager
You'll get a dedicated account manager, who will be your first point of contact and ensure your account runs smoothly.
Employee Discounts
Use your corporate account to offer employee discounts to your team members, an excellent employee incentive.
World Wide Delivery
Order flowers and gifts to be sent to your colleagues and clients across the world with an easy and efficient ordering process.
Additional Benefits
Get a great range of additional benefits, including access to all products at a discounted price, monthly invoicing and more.
Frequently asked questions
How can I order?
We have several ways for you to place your order with us! Firstly, you can place the order directly on the website and use your custom corporate code to apply your company's discount on every order. If you would rather speak to someone, you can reach us on our dedicated corporate line for quick and easy phone orders. Just have your agent number ready! We also accept single and bulk orders via email, email us, and we will take care of the rest!
How can I pay?
Payment is available by 30-day invoicing on account or by placing the order by Visa Debit or credit card.
What additional services do you offer?
A dedicated and friendly account manager
Orders to brighten your home or workplace
International delivery available to a variety of countries
Access to our toll-free dedicated Corporate phone number
Delivery Options?
We have three delivery options, and all options are delivered by hand from a local florist!
Same Day Delivery Across Canada
Next Day Delivery across the US
48 hour delivery Internationally