Purple Matsumoto Aster

Asters are a popular daisy-like flower that has grown wild since ancient times. They get their name from the Greek word "astron", which means star, a perfect name with all of their delicate star-shaped petals! They come in a variety of colours, pink, blue, purple, lavender and white which represent patients, love of variety, elegance and daintiness. Asters are also commonly used for their medicinal qualities from treating everything from a decongestant to curing hangovers!
---
FEATURED!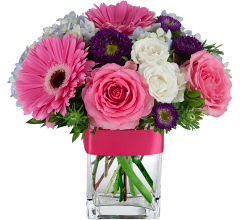 Exclusive to Canada Flowers
NEW!