Substitution Policy
Each of us at Canada Flowers is working hard to develop lifelong relationships with our customers and stand by our freshness guarantee as your assurance of quality.
We appreciate your business and work hard to be your only choice for flower delivery anywhere in the world.
---
Substitution Conditions
---
Due to unstable supply chains, we are experiencing a shortage of inventory as we are all encountering a delay in floral shipments. With this in mind, floral substitutions on most items being delivered may occur without notice. Arrangements will be made to the same value paid with as similar as possible products. We appreciate your understanding at this time.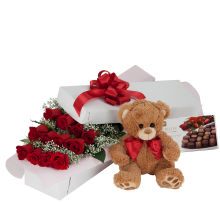 Occasionally it is necessary to substitute items that are either pictured or described online due to variations in supply across the country.
These substitutions may include:
The colour of a certain flower or flowers
Flower varieties
Containers and vases
Teddy bears or plush animals
Fruit or gourmet items
Rose boxes and balloons
---
Why Substitutions Are Made
---
Our catalogue items are each hand designed by a professional designer, as they aren't manufactured on an assembly line, there may be variations in the delivered product. Our quality expectation is that our affiliate maintains the overall look and presentation of what was originally requested.
We strive to retain the value and the integrity of every item ordered, paying particular attention to colour scheme and premium flower varieties.
Please note that substitutions are more likely for 'last minute' orders, and orders placed around holidays, such as Christmas, Mother's Day or Valentine's Day. Substitutions are also more likely to occur for some deliveries to remote, rural areas across Canada.
---
Seasonal Substitutions
---
Seasonal flowers are readily available in most areas across Canada during the periods of time in which they are in full bloom. Availability may be limited at other times. When a seasonal flower is not available, similar flowers may be substituted.
Seasonal Availability:
Gladiolas: Mid Summer to Fall
Hydrangeas: Spring, Summer and Limited During the Fall
Iris: Late Winter to Spring
Sunflowers: Late Summer to Mid Autumn
Tulips: Late Winter to Spring
---
Hospital Substitutions
---
Due to strong scent issues and allergy alerts enforced by most hospitals. Arrangements containing lilies are subject an automatic substitution with a suitable alternative. This substitution is made to ensure no delay and delivery and to maintain the safety and health of other patients at hospitals with this policy.
---
Contact Customer Service
---
Email service@flowers.ca
Phone toll-free 1-888-705-9999
Phone direct 1-905-354-2713
Fax 1-905-374-8708
---
Customer Experience
---
feedback and suggestions from customers. To our existing customers, we'd like to thank-you for your business, and we want you to know that we truly value your business and never take it for granted. To new customers, we invite you to try our services. We offer a complete satisfaction guarantee. We look forward to the opportunity to serve you both now and in the future.
Canada Flowers is continually working toward growing and improving our business. We work hard every day to remain the very best online florist available to Canadians. We are always open to