Abercorn Fruit Baskets & Gourmet Gift Baskets
A scrumptious, edible gift that anyone would love! Most of our fresh, seasonal fruit baskets and delicious gourmet gift baskets are available for next-day delivery in Abercorn. Please note that our baskets are all personally and professionally handcrafted one at a time by local florists in Abercorn. You might also be interested in our selection of Indoor Plant Baskets for delivery. When ordering any of these fruit gift baskets online you can rest assured that quality, customer service and satisfaction will be guaranteed!
---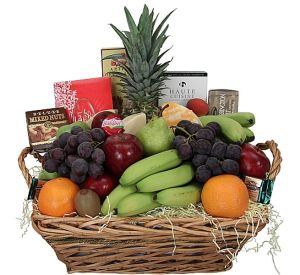 Indulge their sweet tooth and send them something sweet with fruit, chocolate and more!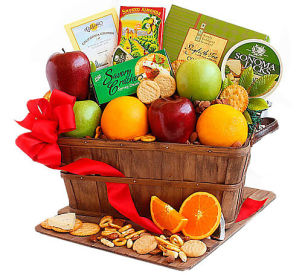 Fruit and gourmet gift baskets are always a popular choice and are welcome gifts for any occasion.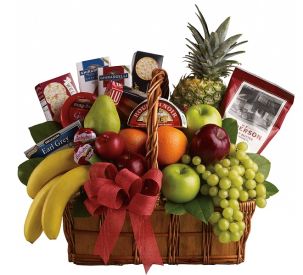 A gourmet gift basket is a thoughtful corporate, get well or thank you gift. Send one today!
Related Products
A selection of flower arrangements available for flower delivery in Abercorn. Shop Fruit & Gourmet, FTD® Fruit & Gourmet, Teleflora Fruit & Gourmet.
---
Granby Flower Delivery, East Pinnacle Flower Delivery, Alva Flower Delivery, Pinacle-Nord Flower Delivery, Hillside Flower Delivery, Domaine-Gagne Flower Delivery, Domaine-Mont-Louis Flower Delivery, Sutton Flower Delivery, West Sutton Flower Delivery, Glen Sutton Flower Delivery, Developpement-Delage Flower Delivery, Abbott's Corner Flower Delivery, Glenton Flower Delivery, East Dunham Flower Delivery, Developpement-Boulanger Flower Delivery, Grey Rock Flower Delivery, Farnam's Corner Flower Delivery, Centre-Kelly Flower Delivery, Joy Hill Flower Delivery, Rochers-Bleus Flower Delivery, Domaine-Hivernon Flower Delivery, Lac-Selby Flower Delivery, North Sutton Flower Delivery, Westover Flower Delivery, Enlaugra Flower Delivery, Dunboro Flower Delivery, Frelighsburg Flower Delivery, Sutton Junction Flower Delivery, Developpement-Daudelin Flower Delivery, Mansville Flower Delivery, Dunham Flower Delivery, Dunkin Flower Delivery, West Brome Flower Delivery, Garrick Corners Flower Delivery, Chapel's Corner Flower Delivery