93 Mile Teleflora Christmas
This Christmas, shop online with Canada Flowers for beautiful Teleflora flowers and keepsake gifts. Canada Flowers Teleflora 2022 Christmas catalogue features beautiful flowers for delivery in 93 Mile. We are proud to offer popular, affordable and fashionable Teleflora Christmas Flowers delivered fresh to the door by the finest Teleflora florists in 93 Mile. View some of our best selling holiday favourites like Thomas Kinkade's Snowfall Dreams Bouquet, Teleflora's Frosty Enchantment Bouquet, and Teleflora's Cardinals In The Snow Ornament!
---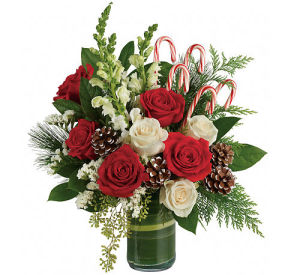 These charming choices are Teleflora customer top-picks. You can't go wrong!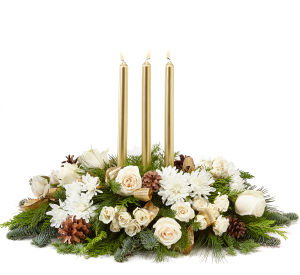 Add a little glow to your holiday table this season with Teleflora!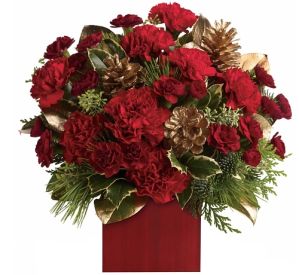 View our festive and affordable Teleflora holiday collection to suit any holiday budget!
Related Products
A selection of flower arrangements available for flower delivery in 93 Mile. Shop Teleflora Christmas Arrangements, Teleflora Christmas Centerpieces, Teleflora Christmas Budget.
---
100 Mile House Flower Delivery, Lone Butte Flower Delivery, Exeter Flower Delivery, Gateway Flower Delivery, 105 Mile House Flower Delivery, Tatton Flower Delivery, 108 Mile Ranch Flower Delivery, Buffalo Creek Flower Delivery, 111 Mile House Flower Delivery, 114 Mile House Flower Delivery, Forest Grove Flower Delivery, Lac la Hache Flower Delivery, 70 Mile House Flower Delivery, Sheridan Lake Flower Delivery, North Bonaparte Flower Delivery, Roe Lake Flower Delivery, 122 Mile House Flower Delivery, Chasm Flower Delivery, Wright Flower Delivery, Bridge Lake Flower Delivery, 127 Mile House Flower Delivery, Eagle Creek Flower Delivery