10th Line Shore Fall Flowers Collection
Order Fall Flowers for any occasion or sentiment - including Canadian Thanksgiving - during the wonderful Autumn season. Choose below from our large selection of Autumn flowers from our own original Canada Flowers designs plus our fall Teleflora and fall FTD selections. We are Canada Flowers, 10th Line Shore's Premier online fall flower delivery florist, offering the finest in original flower designs combined with outstanding personal customer service.
---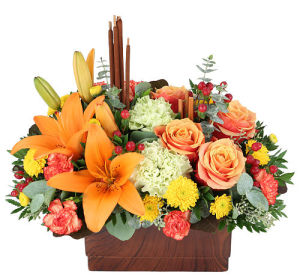 Seasonal Fall Flowers. Our Canada Flowers originals are designed with value and beauty in mind.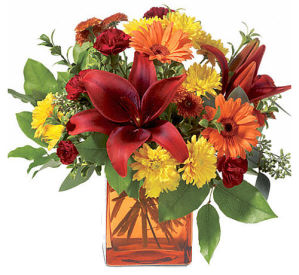 Shop gorgeous Fall & Thanksgiving Flowers. Featuring the finest Teleflora designs for delivery across Canada.
Related Products
A selection of flower arrangements available for flower delivery in 10th Line Shore. Shop Fall Flowers, FTD® Fall Flowers, Teleflora Fall Flowers.
---
Nepean Flower Delivery, Kanata Flower Delivery, Stittsville Flower Delivery, Carleton Place Flower Delivery, Arnprior Flower Delivery, Smiths Falls Flower Delivery, Almonte Flower Delivery, Kemptville Flower Delivery, Hay's Shore Flower Delivery, Petrie Shore Flower Delivery, Lake Park Flower Delivery, McCann's Shore Flower Delivery, Rathwell's Shore Flower Delivery, Sinclair Shore Flower Delivery, Scotch Corners Flower Delivery, McDiarmid's Shore Flower Delivery, Coleman's Shore Flower Delivery, Montgomery Park Flower Delivery, McArthur Mills Flower Delivery, Craig Shore Flower Delivery, McCrearys Flower Delivery, Tennyson Flower Delivery, Ebbs Shore Flower Delivery, Cooke's Shore Flower Delivery, McNaughton Shore Flower Delivery, Boyds Flower Delivery, Franktown Flower Delivery, Innisville Flower Delivery, Robertson's Shore Flower Delivery, McCreary's Shore Flower Delivery, McCulloughs Landing Flower Delivery, Appleton Flower Delivery, Quinn Settlement Flower Delivery, Gillies Corners Flower Delivery, Halpenny Flower Delivery