Arichat FTD® Christmas 2018
This Christmas, shop online with Canada Flowers for beautiful FTD® Christmas flowers and keepsake gifts. Canada Flowers FTD® 2018 Christmas catalogue features beautiful flowers for delivery in Arichat. We are proud to offer popular, affordable and fashionable FTD® Christmas Flowers delivery fresh to the door by the finest FTD® florists in Arichat. View some of our best selling holiday favourites like the FTD® Holiday Traditions Bouquet, FTD® Beautifully Bright Centerpiece, and the FTD® Christmas Magic Bouquet!
---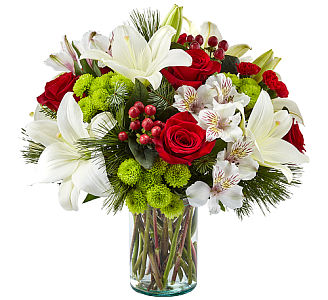 This Christmas, send your love and holiday wishes with a beautiful Christmas arrangement from FTD.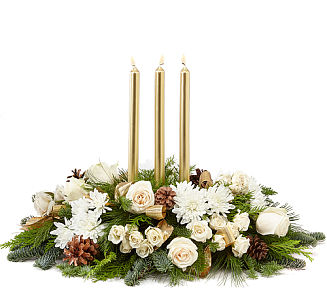 Add a little glow to your holiday table this season with a centrepiece from FTD!
Related Products
A selection of flower arrangements available for flower delivery in Arichat. Shop FTD® Christmas Arrangements, FTD® Christmas Centerpieces .
---
Petit de Grat Flower Delivery, West Arichat Flower Delivery, Sampson Cove Flower Delivery, D'Escousse Flower Delivery, Louisdale Flower Delivery, River Bourgeois Flower Delivery, St Peters Flower Delivery, Canso Flower Delivery, L'Ardoise Flower Delivery, Port Malcolm Flower Delivery, Lower l'Ardoise Flower Delivery, Cleveland Flower Delivery, West Bay Flower Delivery, Little Dover Flower Delivery, Point Tupper Flower Delivery, Port Hawkesbury Flower Delivery, Askilton Flower Delivery, West Bay Road Flower Delivery, Pleasant Hill Flower Delivery, Crandall Road Flower Delivery, Grand River Flower Delivery, Mulgrave Flower Delivery, Mackdale Flower Delivery, Sugar Camp Flower Delivery, Lexington Flower Delivery, Port Hastings Flower Delivery, Queensville Flower Delivery, River Denys Flower Delivery, Boylston Flower Delivery, Troy Flower Delivery, Guysborough Flower Delivery, Bras d'Or Flower Delivery, Frankville Flower Delivery, Creignish Flower Delivery, Larrys River Flower Delivery