Adolphustown Christmas Centerpieces
Send Flowers same day in Adolphustown with Canada Flowers, Adolphustown's Premier Florist. Our Christmas Centerpieces catalogue features beautiful flower centerpiece for the Christmas holiday season. Prices are in Canadian dollars. Choose centrepiece arrangements with or without candles, in red, pink or white festive colours. Try sending a Christmas floral centerpiece to a loved one and leave a lasting impression this holiday season!
---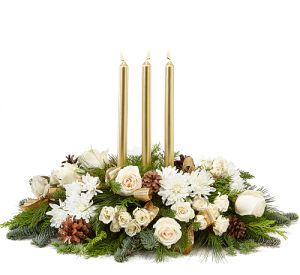 Find the perfect centrepiece for your holiday table to perfectly accent the holiday festivities.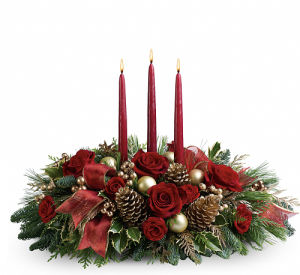 Add a little glow to your holiday table this season with Teleflora Centerpieces!
Related Products
A selection of flower arrangements available for flower delivery in Adolphustown. Shop Christmas Centerpieces , FTD® Christmas Centerpieces , Teleflora Christmas Centerpieces.
---
Bongard Flower Delivery, Glenora Flower Delivery, Waupoos East Flower Delivery, Gosport Flower Delivery, Bongard Corners Flower Delivery, Waupoos Flower Delivery, Woodville Flower Delivery, Waupoos Island Flower Delivery, Watercombe Flower Delivery, Roblin Mills Flower Delivery, Conway Flower Delivery, Huff Wharf Flower Delivery, Cole Wharf Flower Delivery, Hayburn Flower Delivery, Cressy Flower Delivery, Greenpoint Flower Delivery, Elmbrook Flower Delivery, Fawcettville Flower Delivery, Sandhurst Shores Flower Delivery, Bethesda Flower Delivery, Sillsville Flower Delivery, Picton Flower Delivery, Sandhurst Flower Delivery, Bethany Flower Delivery, Yerexville Flower Delivery, Solmesville Flower Delivery, Gretna Flower Delivery, Port Milford Flower Delivery, Deseronto Flower Delivery, Milford Flower Delivery, Warings Corner Flower Delivery, North Port Flower Delivery, Demorestville Flower Delivery, Galts Corner Flower Delivery, Woodrous Flower Delivery