Acadie Siding FTD® Christmas 2018
This Christmas, shop online with Canada Flowers for beautiful FTD® Christmas flowers and keepsake gifts. Canada Flowers FTD® 2018 Christmas catalogue features beautiful flowers for delivery in Acadie Siding. We are proud to offer popular, affordable and fashionable FTD® Christmas Flowers delivery fresh to the door by the finest FTD® florists in Acadie Siding. View some of our best selling holiday favourites like the FTD® Holiday Traditions Bouquet, FTD® Beautifully Bright Centerpiece, and the FTD® Christmas Magic Bouquet!
---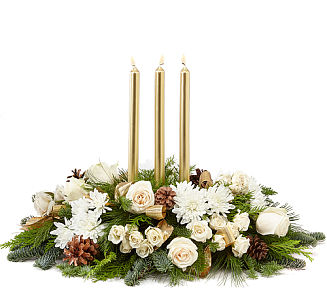 Add a little glow to your holiday table this season with a centrepiece from FTD!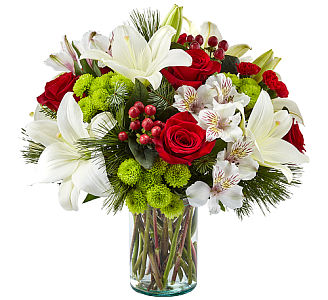 This Christmas, send your love and holiday wishes with a beautiful Christmas arrangement from FTD.
Related Products
A selection of flower arrangements available for flower delivery in Acadie Siding. Shop FTD® Christmas Centerpieces , FTD® Christmas Arrangements.
---
Noinville Flower Delivery, Rogersville Flower Delivery, Acadieville Flower Delivery, Kent Junction Flower Delivery, Collette Flower Delivery, Rosaireville Flower Delivery, Murray Settlement Flower Delivery, Barnaby Flower Delivery, Bass River Flower Delivery, Smith's Corner Flower Delivery, Harcourt Flower Delivery, Aldouane Flower Delivery, Laketon Flower Delivery, Kouchibouguac Flower Delivery, Cails Mills Flower Delivery, St Margarets Flower Delivery, McKinleyville Flower Delivery, Chelmsford Flower Delivery, Redmondville Flower Delivery, Cains River Flower Delivery, Browns Yard Flower Delivery, Gray Rapids Flower Delivery, Howard Flower Delivery, Keenans Flower Delivery, Derby Flower Delivery, Bryenton Flower Delivery, Millerton Flower Delivery, Barnettville Flower Delivery, Targettville Flower Delivery, Fords Mills Flower Delivery, Upper Derby Flower Delivery, Big Cove Flower Delivery, Doyles Brook Flower Delivery, South Nelson Flower Delivery, White Rapids Flower Delivery