Acadia Valley Flower Arrangements By Colour
Send Flowers same day in Acadia Valley with Canada Flowers, Acadia Valley's Premier Florist. Whether it's your favourite colour or their favourite colour, we put the power in your hands with this unique section of flower arrangements for delivery organized by colour.
Select any colour below that strikes your fancy.
---
No wallflower, here. Orange is bold, passionate and full of life. It's no wonder that orange blooms speak of enthusiasm, excitement and exuberance.
Delicate light pink hues speak of gentleness, happiness, and love. A very romantic flower color, it's also a symbol of grace and innocence.
Green flowers represent the optimism of renewal, of spring and of youthfulness. Green flowers in a bouquet are also a wish for good fortune and good health.
Youth and elegance, grace and refinement. Lavender flowers have a delicate, and feminine touch to them, even when contained in a decidedly modern bouquet.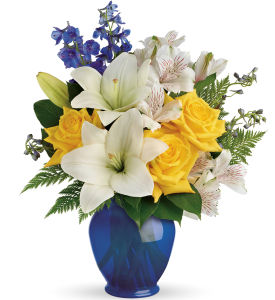 Peaceful blue is said to convey serenity and openness. A flower delivery of a bouquet containing blue flowers may be a sign to relax, and release the stress.
White flowers can mean purity and innocence or sympathy for a bereavement.White flowers can also be bold and brilliant, or gentle and self-effacing.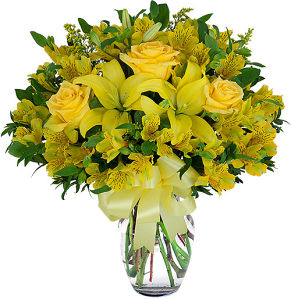 Yellow flowers burst with happiness. They symbolize the bonds of friendship, the taste of success and pride. ​Joy is also one of the feelings the color is said to evoke.
Vibrant, passionate and demanding to be noticed, red is the color of love and romance. Red flowers symbolize courage, respect, admiration and, of course, desire.
A royal color, purple flowers symbolize dignity, tradition, and success. A bouquet containing purple flowers can be symbols of admiration and adoration.
Related Products
A selection of flower arrangements available for flower delivery in Acadia Valley. Shop Striking Oranges, Perfect Pinks, Vibrant Greens, Soft Lavenders, Majestic Blues, Classic Whites, Sunny Yellows, Radiant Reds, Prismatic Purples.
---
Sibbald Flower Delivery, Empress Flower Delivery, Oyen Flower Delivery, Alsask Flower Delivery, Bindloss Flower Delivery, Mantario Flower Delivery, Marengo Flower Delivery, Laporte Flower Delivery, Cereal Flower Delivery, Buffalo Flower Delivery, Flaxcombe Flower Delivery, Leader Flower Delivery, Mendham Flower Delivery, Eatonia Flower Delivery, Loverna Flower Delivery, Chinook Flower Delivery, Esther Flower Delivery, Burstall Flower Delivery, Hoosier Flower Delivery, New Brigden Flower Delivery, Sedalia Flower Delivery, Prelate Flower Delivery, Big Stone Flower Delivery, Liebenthal Flower Delivery, Glidden Flower Delivery, Sceptre Flower Delivery, Smiley Flower Delivery, Hilda Flower Delivery, Compeer Flower Delivery, Youngstown Flower Delivery, Kindersley Flower Delivery, Jenner Flower Delivery, Madison Flower Delivery, Richmound Flower Delivery, Altario Flower Delivery