Abercorn Teleflora Christmas 2018
This Christmas, shop online with Canada Flowers for beautiful Teleflora flowers and keepsake gifts. Canada Flowers Teleflora 2017 Christmas catalog features beautiful flowers for delivery in Abercorn. We are proud to offer popular, affordable and fashionable Teleflora Christmas Flowers delivered fresh to the door by the finest Teleflora florists in Abercorn. View some of our best selling holiday favorites like the ​Thomas Kinkade's Family Tree Bouquet, ​Teleflora's Vintage Sleigh Bouquet, and the ​Teleflora's Twinkling Ornament Bouquet!
---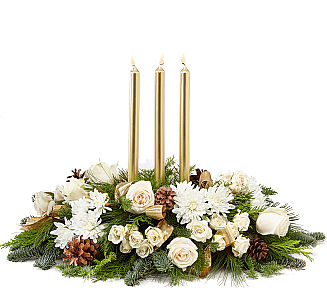 Add a little glow to your holiday table this season with Teleflora!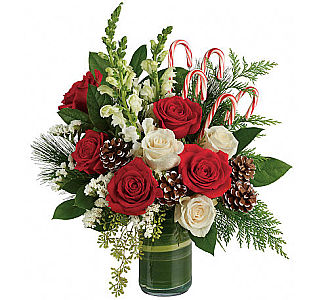 These charming choices are Teleflora customer top-picks. You can't go wrong!
Related Products
A selection of flower arrangements available for flower delivery in Abercorn. Shop Teleflora Christmas Centerpieces, Teleflora Christmas Budget, Teleflora Christmas Arrangements.
---
Sutton Flower Delivery, Frelighsburg Flower Delivery, Dunham Flower Delivery, West Brome Flower Delivery, Brome Flower Delivery, Cowansville Flower Delivery, Mansonville Flower Delivery, Stanbridge East Flower Delivery, East Farnham Flower Delivery, Knowlton Flower Delivery, Bedford Flower Delivery, South Bolton Flower Delivery, Brigham Flower Delivery, Vale Perkins Flower Delivery, Fulford Flower Delivery, Stanbridge Station Flower Delivery, Bolton Centre Flower Delivery, Foster Flower Delivery, Bromont Flower Delivery, Philipsburg Flower Delivery, Pike River Flower Delivery, Georgeville Flower Delivery, Austin Flower Delivery, Shefford Flower Delivery, Waterloo Flower Delivery, Farnham Flower Delivery, Canton de Shefford Flower Delivery, Ogden Flower Delivery, Warden Flower Delivery, Eastman Flower Delivery, Granby Flower Delivery, Henryville Flower Delivery, Stanstead Flower Delivery, Clarenceville Flower Delivery, Abbotsford Flower Delivery