141 Mile House Fruit, Gourmet, & Wine
Scrumptious, edible gifts that anyone would love! Most of our fresh, seasonal fruit baskets and delicious gourmet gift baskets are available for next-day delivery in 141 Mile House. Our new Food and Wine Gift Boxes are available for Nova Scotia, Ontario, Manitoba, Saskatchewan, and British Columbia residents only, with a delivery date within a week of ordering; depending on your delivery address. Please note that our baskets are all personally and professionally handcrafted one at a time by local florists. You might also be interested in our selection of Indoor Plant Baskets for delivery. When ordering any of these gifts online you can rest assured that quality, customer service and satisfaction will be guaranteed!
---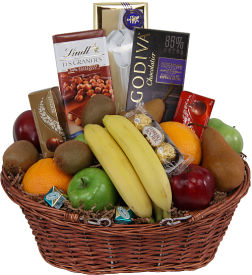 Indulge their sweet tooth and send them something sweet with fruit, chocolate and more!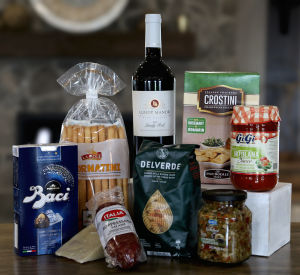 Assortments of local wines, paired with delightful snacks and chocolate. For delivery within Ontario only.
Related Products
A selection of flower arrangements available for flower delivery in 141 Mile House. Shop Fruit & Gourmet, Food & Wine.
---
Enterprise Flower Delivery, St. Joseph Mission Flower Delivery, 150 Mile House Flower Delivery, Sugarcane Flower Delivery, 127 Mile House Flower Delivery, Wright Flower Delivery, Springhouse Flower Delivery, South Lakeside Flower Delivery, 122 Mile House Flower Delivery, Esler Flower Delivery, Williams Lake Flower Delivery, Commodore Heights Flower Delivery, Glendale Flower Delivery, Miocene Flower Delivery, Lac la Hache Flower Delivery, Meldrum Creek Flower Delivery, Alkali Lake Flower Delivery, 114 Mile House Flower Delivery, 111 Mile House Flower Delivery, 108 Mile Ranch Flower Delivery, Tl'esqox Flower Delivery, Tatton Flower Delivery, Becher House Flower Delivery, Big Lake Ranch Flower Delivery, Riske Creek Flower Delivery, Horsefly Flower Delivery, 105 Mile House Flower Delivery