141 Mile House Christmas Centerpieces
Send Flowers same day in 141 Mile House with Canada Flowers, 141 Mile House's Premier Florist. Our Christmas Centerpieces catalogue features beautiful flower centerpiece for the Christmas holiday season. Prices are in Canadian dollars. Choose centrepiece arrangements with or without candles, in red, pink or white festive colours. Try sending a Christmas floral centerpiece to a loved one and leave a lasting impression this holiday season!
---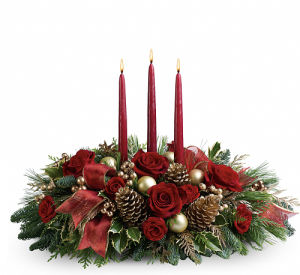 Add a little glow to your holiday table this season with Teleflora Centerpieces!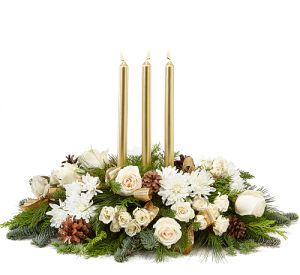 Find the perfect centrepiece for your holiday table to perfectly accent the holiday festivities.
Related Products
A selection of flower arrangements available for flower delivery in 141 Mile House. Shop Christmas Centerpieces , Teleflora Christmas Centerpieces, FTD® Christmas Centerpieces .
---
Enterprise Flower Delivery, St. Joseph Mission Flower Delivery, 150 Mile House Flower Delivery, Sugarcane Flower Delivery, 127 Mile House Flower Delivery, Wright Flower Delivery, Springhouse Flower Delivery, South Lakeside Flower Delivery, 122 Mile House Flower Delivery, Esler Flower Delivery, Williams Lake Flower Delivery, Commodore Heights Flower Delivery, Glendale Flower Delivery, Miocene Flower Delivery, Lac la Hache Flower Delivery, Meldrum Creek Flower Delivery, Alkali Lake Flower Delivery, 114 Mile House Flower Delivery, 111 Mile House Flower Delivery, 108 Mile Ranch Flower Delivery, Tl'esqox Flower Delivery, Tatton Flower Delivery, Becher House Flower Delivery, Big Lake Ranch Flower Delivery, Riske Creek Flower Delivery, Horsefly Flower Delivery, 105 Mile House Flower Delivery