141 Mile House Birthday Flowers Collection
This year, send Happy Birthday wishes to a friend, colleague or loved one with a beautiful Birthday flower arrangement from our Birthday Collection. Liven up any birthday party with a festive bouquet of birthday flowers, or surprise them with a cheerful Birthday bouquet! Birthdays are an excellent opportunity to surprise the ones you love with a delivery of flowers. With our fantastic selection of carefully hand-crafted arrangements and plants, you will find the perfect birthday gift for that particular person. Choose from something classy yet simple, or celebrate in style all year by choosing one of our monthly flower delivery subscriptions. This gift is ideal for those who want to show their loved ones how much they mean to them every month of the year, not just on their birthday.
---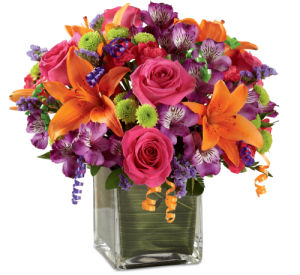 A special selection of popular FTD® gifts for celebrating birthdays across Canada. Canada Flowers is FTD's top Canadian Florist.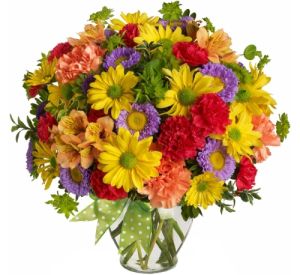 Shop from our selection of Teleflora birthday flowers. Choose the best Teleflora birthday flowers for delivery across Canada.
STAFF PICK!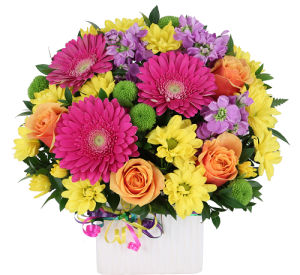 Festive birthday flower gifts found nowhere else online. Our Canada Flowers Originals will make their day a special one.
Related Products
A selection of flower arrangements available for flower delivery in 141 Mile House. Shop FTD® Birthday Flowers, Teleflora Birthday, Birthday Flowers.
---
Enterprise Flower Delivery, St. Joseph Mission Flower Delivery, 150 Mile House Flower Delivery, Sugarcane Flower Delivery, 127 Mile House Flower Delivery, Wright Flower Delivery, Springhouse Flower Delivery, South Lakeside Flower Delivery, 122 Mile House Flower Delivery, Esler Flower Delivery, Williams Lake Flower Delivery, Commodore Heights Flower Delivery, Glendale Flower Delivery, Miocene Flower Delivery, Lac la Hache Flower Delivery, Meldrum Creek Flower Delivery, Alkali Lake Flower Delivery, 114 Mile House Flower Delivery, 111 Mile House Flower Delivery, 108 Mile Ranch Flower Delivery, Tl'esqox Flower Delivery, Tatton Flower Delivery, Becher House Flower Delivery, Big Lake Ranch Flower Delivery, Riske Creek Flower Delivery, Horsefly Flower Delivery, 105 Mile House Flower Delivery