100 Mile House Maternity & New Baby Flowers Collection
Welcome to Canada Flowers Maternity catalogue. When checking out, it is possible to add teddy bears, balloons and more to any maternity arrangement below. Our prices are in Canadian dollars and flower delivery is available to most towns and areas in 100 Mile House. Taxes are added when checking out. Don't quite see the flowers for that new mom or dad that you were looking for? Also try a Custom Order or consider Congratulations Flowers.
---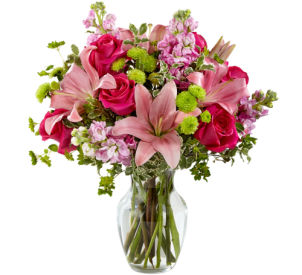 Send your love with new baby gifts from flowers to gourmet baskets for mom. FTD® delivers flower arrangements, balloons, bouquets, and more.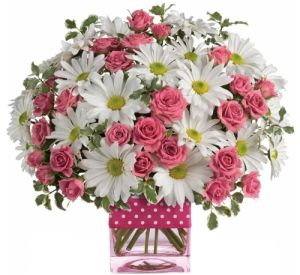 Welcome a new baby into the world by sending an impressive display of flowers in a keepsake vase. Add some balloons and a cute stuffed animal!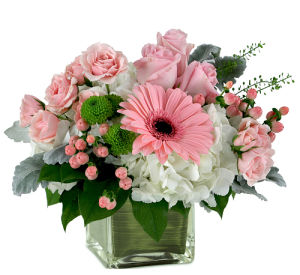 What an amazing time it is for the new mom and dad as their family grows with the arrival of a new child (or more!). Share the love here.
Related Products
A selection of flower arrangements available for flower delivery in 100 Mile House. Shop FTD® Maternity & New Baby, Teleflora Maternity & New Baby, Maternity & New Baby.
---
Exeter Flower Delivery, Gateway Flower Delivery, 105 Mile House Flower Delivery, 93 Mile Flower Delivery, Tatton Flower Delivery, Lone Butte Flower Delivery, 108 Mile Ranch Flower Delivery, Buffalo Creek Flower Delivery, 111 Mile House Flower Delivery, Forest Grove Flower Delivery, 114 Mile House Flower Delivery, Lac la Hache Flower Delivery, 122 Mile House Flower Delivery, Sheridan Lake Flower Delivery, Roe Lake Flower Delivery, Wright Flower Delivery, 127 Mile House Flower Delivery, North Bonaparte Flower Delivery, Eagle Creek Flower Delivery, 70 Mile House Flower Delivery, Bridge Lake Flower Delivery, Canim Lake Flower Delivery, Chasm Flower Delivery, Mahood Falls Flower Delivery